IT Marketing services involves a plethora of strategies and functions that Information Technology companies must take over to convince their potential customers for their services. An effective marketing strategy must be able to convince customers and establish connections with them.
The IT sector is the most exponentially growing one with cut-throat competition. From established companies and new entrants, the competition is increasing from left and right, making it necessary for you to stand out if you want to survive. And one possible way to do this is by marketing yourself.
In the face of the current competition, if you don't present your services and show people what you have to offer, your company might become stagnant, and eventually stop. And you don't wanna let that happen.
Click to Reach out to a Top Digital Marketing Consultant in Canada
What are the Major Challenges of IT Marketing?
From the above-said points, you might think of competition as the greatest challenge, but it's not so. IT marketers are facing other challenges such as:
Growing Relevant Web Traffic
Around 57% of marketers are facing challenges in growing web traffic, according to a Hubspot State of Inbound report. Considering the fact that IT marketers have to look beyond traditional channels, this percentage could be higher in the cutting-edge IT industry.
2. Get Web Qualified Leads
Apart from the pressure of growing web traffic, IT marketers also struggle with getting qualified leads comparable with their marketing dollars. According to a Hubspot study, 63% of marketers say that generating leads is their greatest challenge.
Also, 38% of IT salespeople say that getting a response from potential customers is getting tougher by day. It goes without saying, this challenge is a big obstacle in generating leads which ultimately impacts the increase in sales.
3. Providing IT Marketing ROI
40% say that proving the ROI of their IT Marketing spend is a big challenge for them. To put it simply, IT marketers are struggling to keep track and make sense of their marketing metrics. They can't seem to balance between their marketing spending and activities.
Whichever way you look at it, these stats prove the urgent need for effective IT marketing strategies. But before I get into the crux of the matters, have a look at the current state of IT marketing.
State of IT Marketing as of 2022
The following section will clear your doubts about the current state of IT Marketing, and what's in store for IT marketers in these 12 months.
Data or Content?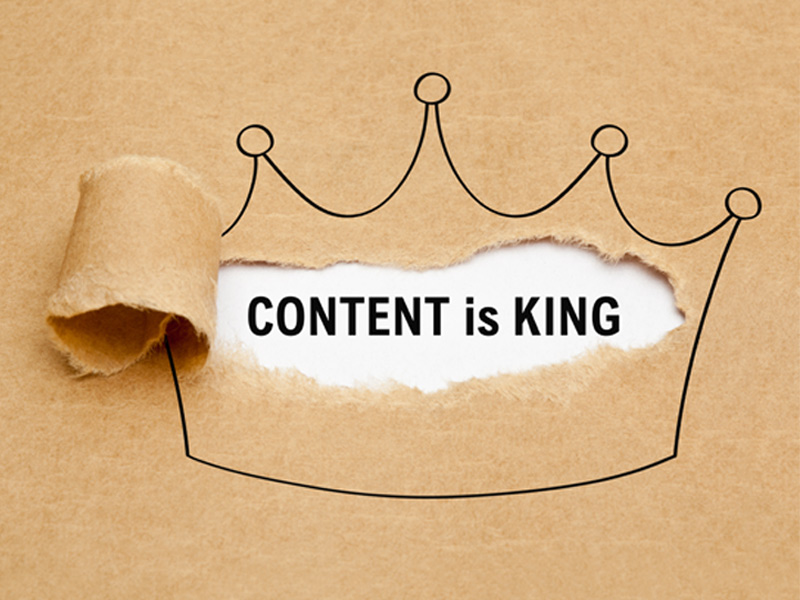 Content is king when it comes to digital marketing. It can drive web traffic, generate more leads, boost online visibility, and eventually increase revenue growth. To prove that content is supreme in IT marketing, have a look at these stats:
95% of B2B tech marketers say that they actively employ content marketing. Also, 3/4th of them say that their marketing companies are expected to produce more content this year than in 2021.
On average, before making a decision, your decision-makers are considering 11.4 pieces of content prior to making a purchase.
85% of clicks in search results are for non-paid (organic) searches. Content can be known especially useful since 90% of marketers say that their target is the leading generation. And so they say that they'll tweak their content now to engage with possible clients.
In the IT space, 89% of vendors provide content to help their customers create an ROI for their service.
It's clear with these stats that content marketing efforts must be given top priority by IT firms. Unfortunately, most of the companies are not so good at it.
65% of companies find it hard to define and create engaging and influential content
80% of marketers speak of their inability to measure ROI and the effectiveness of their content
Around 73% of them are unable to create consistent content due to a lack of resources
Some companies even consider themselves incapable of creating an effective content
So now the question arises, how can IT marketers take content marketing to the next level? To help you create a top-notch marketing strategy, I've created this handy guide that'll help you stay ahead of the curve.
Hire a Digital Marketing Expert in Canada
What you will find in the guide?
Foundational steps of a great IT marketing strategy
Investing in content marketing for your IT business
How to improve your ROI
Key steps to implementing a comprehensive marketing plan
Summary
Before reaching out to you or your salespeople, potential clients reach out to your website to find information. So your website is essentially your business card. Which calls for having a simple, rich, easy-to-use, mobile-friendly, and responsive website.
In the current competition, having an IT-grade website is the best approach to put your best foot forward in terms of marketing. It's a chance to make a great impression on prospective clients.
So what makes a great website?
To bolster your IT marketing goals, a website should be able to load seamlessly to prevent abandonment. It should be clean, free of clutter, and easy to navigate.
It must also include content and language that is easy to understand for the non-technical audience as well. This is the true bane of IT companies today, they don't give emphasis to this point.
I get it: you provide technical services. But B2B clients are NON-TECHNICAL. The final decision about the purchase is made by the CEO or COOs. So you need to make sure that you're presenting content that is easily understandable on a website that is easy to navigate. Ask your close mates to have a look at your site. You need a rebrand if they take a min or more to understand what your website is offering.
2. Improving your Online Presence
How can your potential clients find you or your services if you're not available online? That's the reason why you need to level up your brand awareness game.
IT companies are a commodity. There are chances that thousands of these companies are operating in America. And that the services they provide are quite similar. Or so it is seen by the end customers.
This reality proves that it is extremely difficult to stand out from the crowd as an IT company.
To counter this unfortunate situation, you need to make sure that your IT digital marketing strategies are top-notch. For buy-oriented keywords in your expertise, you need to be at least in the top 3 of search results.
Many marketers tend to believe that showing on the first search page is the ultimate success. It's great to boost your morale. But with the stats that tell us people only tend to click the top 3 sites on the search page, it's of no use to land on the page in and of itself. You need to push harder so that you land in the top 3 searches and people click on your website link. You, therefore, need to opt for dedicated SEO Services.
So what can you do to land on these most wanted positions on Google search pages? Below are a variety of digital marketing strategies you can employ:
Organize Webinars: The key strategy in targeting the right audience is to organize educational webinars, especially because you are working on IT marketing. To improve your online visibility, make sure that your webinars are informative, interactive, and above all, exciting. To build buzz for your upcoming webinars, use social media handles.
If you're not sure where to start, you can simply sign up for a tool like Bigmarker which provides services starting at $89 per month. It provides you one solution for all, i.e, inviting people to the webinar, sending emails, and sharing video recordings of the webinar with them.
Publish Industry Studies: Credibility and social proof in the IT sector are crucial for you to stand out. That's why you need to publish high-quality studies to create rapport and hence establish yourself as an industry thought leader. That's how you build your authority in the niche so that clients will reach out to you for services. You can promote such research by opting for standard Social Media Marketing Services.
Create and Distribute Infographics: The impact of visuals is terrific. According to studies, human beings can process visuals 60,000x faster than text or audio. Well, looking at this piece of info, I'm sure you might want to create infographics and other kinds of visual content about your brand, products, and services. You can easily distribute these through email marketing, social media, newsletters, blogs, websites, guest blogs, and more.
Podcasts: Podcasts are in high demand and use today. There are currently over 500,000 active podcasts, in over 100 languages, on Apple Podcasts alone. Around 44% of Americans have listened to podcasts. What's more, around 67 Million people listen to podcasts every month. That's crazy! Against this background, you can surely use this available tool which doesn't require the end-user to be prepared beforehand. They can listen to your content anytime, anywhere. And they're super easy to implement.
Guest Blogs: You can find and post on some already established blogs and websites that have an online reputation. Since these websites are already well established, posting your content here will expose you to a large audience base. You can easily include backlinks to your website and social media profiles. And we all know that any backlink to your website will help it rank higher in Google searches.
Online Community Engagement: Just as with any sector, engaging with your target audience will help you to earn more leads for IT marketing. This strategy will allow you to educate and share prospects with people rather than marketing to them. It's surely the holy grail of online marketing.
3. Get Qualified Visitors to Your Website
We know most IT marketers complain that getting website traffic is the greatest challenge they face. Here's what you can do to make it easier:
Get a Handle on Your Content: Generate multiple contents like articles and blogs, for your website. If your content is captivating, original, and informative, people will be hooked and draw others to your website as well. You need to make sure that the content you're posting is well-targeted. You can easily outsource writing to any copywriting services providers in your city.
Create White Papers: In-depth reports that are engaging, authoritative, engaging, and convincing on a given topic, are called White Papers. So you need to pick a topic relevant to your technical space or applies to your services. Your white papers must be prepared thoroughly and must be well-targeted so that they turn out to be informational to the reader, rather than just a waste of time.
Targeted Landing Pages: These pages will do wonders for both on and off-page SEO. When implemented properly, well-designed and targeted, they're sure to bring traffic to your domain. Your targeted landing pages need to be simple, easy to navigate and load quickly.
4. Connect with IT Influencers Online
In this digital era, social media inevitably stands out as a champion in marketing. Recent figures prove this. Social media platforms, having over 2 billion users, govern on average 134 minutes of a person's time every day. So how can you make sure that your IT marketing strategies align with the social media trends?
5. Create Your Social Media Strategy from Top to Bottom
Firstly, set goals that'll address your social media marketing hot buttons. Research your target audience well, and find out how your competitors are doing on social media.
6. Post Engaging Content Across all Platforms
Once you have your strategy in place, create, curate, and post content across all your social media handles, including Facebook, Twitter, Instagram, YouTube, and Reddit. Leverage content and custom collaterals to increase your social media presence and engagement.
7. Stay on top of Your Social Media Campaigns
Whether through Paid Ad Services, or tailored content, make sure you stay on top of your social media campaigns. Also, focus on aligning your campaigns to your SEO strategy. Through cross-promotional tactics, keep promoting your new posts and content.
When all this is done, you can also use social media to share updates of your blog, website, articles, and other web content.
8. Build Your Online Credibility
There are numerous ways IT companies can use to build credibility on the web:
Testimonials
If your products are not used and loved by others, how can new clients trust them? They are the holy grail of marketing. They easily help you build trust and credibility with your target audience and potential clients. Ensure that you are regular with posting genuine client testimonials.
Speaking Engagements
Sign up for platforms where you can speak like trade shows, conferences, seminars, etc, and where you can share your knowledge and expertise. The reality is that you might send 100 emails to relevant conferences and only 4-5 might end up showing some interest. But that's normal. You can take any opportunity to showcase your knowledge in the niche and your authority. And that transfers to what your company has to offer.
Case Studies
Do thorough research of your niche, past clients, or a specific topic that's hot and trending in your industry. Case studies provide extensive information on how you can handle things, and how good you are at what you do. Offer insights, in-depth analyses, and solutions that will help you stand out and market for you.
Educational Videos
If you are interested in increasing social awareness and boosting your presence, you must be ready to offer value to your potential customers. One great way to do this is through educational videos. They could be about anything related to your services, tutorials, dos, and don'ts, or guides to your products.
This strategy is not too expensive because great cameras come in handy today- your phone! Videos don't need to be extremely professional or complex. You can start with a simple tripod, a whiteboard, and your smartphone.
Ratings and Reviews
Ratings and reviews must be given great consideration because people love comparing services like apples to apples. But you also need to make it easy for your client to leave a review for you. That could mean opening several IT review sites. Go the extra mile and offer them some kind of reward for their review as a thank you.
Remember, around 69% of customers say they are likely to buy from an IT website with ratings and reviews.
Amplify your message
You must strive to become a brand with core values, mission, as an IT business. Customer trust is fading fast in today's world, so being a likable brand is not enough. To amplify your brand mission and message, use these strategies:
Influencer Outreach
Influencer outreach is the GOAT when it comes to B2B marketing or IT marketing. It allows your assistance to build website link building, relationship development, and content promotion. It will get your brand message out there.
Influencer Management
Running influencer management successfully is a challenging task. That's why you need a true-and-tried management agency to take care of this for you.
PR strategy
You need to stay on top of your PR strategy using fresh content and press releases to keep your brand on top of your client's mind.
Marketing Emails and Newsletters
The common belief that email marketing is dead, is not true at all. You need to use it correctly so that it can amplify your brand message and boost your IT marketing. You can use outreach, inbound, outbound marketing strategies to build a rich and structured email list so you can target the right people.
Media kit
Build a dynamic media kit for distribution in the press, journalists, tech bloggers, influencers, and new media channels. Keep it handy.
Investing in IT marketing for your business: Is it really that important?
I've said it before and I can say it again: CONTENT IS KING! But what's the reason? I've listed some reasons why content marketing proves beneficial for your IT business:
Tell your brand story
Every IT business has a story and vision. But what makes you different? What's your story and how do people come to know it? Through marketing, you'll be able to get your mission out there seamlessly, with the help of curated content.
Better results than paid search and outbound marketing
Being an IT firm, you probably set apart a portion of your marketing budget for outbound strategies. That's ill-informed because compared to paid search or outbound marketing, content generates 3x leads.
Original content generates more leads
Fresh and original content generates around 20-30% more leads. Content not only adds to your current lead generation but also shows promise in the long-term, unlike paid Ads or search.
Increases site traffic
Good content marketing will increase your site traffic by 30-70%. Considering that website traffic is the #1 goal of companies, this percentage is really convincing.
Cost-effective
If you're an IT company on a tight budget, content marketing ought to be your go-to option. It'll save you tons of money. It has shown promise to not only save time but also save costs by approximately 20%. These savings you can utilize for better R&D of your products.
Best SEO Consulting Services in Toronto, Canada
How to improve your IT Marketing ROI?
Your IT marketing ROI tells you how efficiently your marketing strategies are performing. You can enhance it by reducing marketing costs, increasing income, or both. It's also crucial that you direct your marketing money towards resources that'll deliver you better ROI.
As a rule of thumb in IT marketing, the spend percentage across different channels is as given:
50% of the spending should go to Google AdWords campaigns. If you've just launched your website, or are struggling, this percentage can be higher
17% should go to Facebook ads
11% goes to SEO campaigns (keyword search, hiring an SEO agency, purchasing tools)
6% to content marketing. Spend human resources more than money on content marketing
9% to social media marketing and management, plus boosting engagement and brand awareness online
Remaining 7% on miscellaneous items like KPIs, influencer outreach, etc
Key steps to implementing a comprehensive marketing plan
Building a comprehensive and effective marketing strategy and the plan is not a day's job. To get the plan right from day 1, I've listed the 5 crucial steps that IT marketers can take.
1. Choosing the right content marketing partner
It's for a good reason that 56 percent of American businesses outsource their marketing to a third-party agency. Well-established and experienced marketing agencies know every nook and cranny of the best practices in IT marketing.
So, keeping that in mind, making due diligence so that you choose the right agency, should be the first step to an excellent IT marketing strategy.
2. Define your marketing objectives and customer needs
Do you want to generate more leads, create online awareness, retain existing customers, promote new IT products or services, and improve brand loyalty? I'm sure your answer is yes, and more! Marketing objectives may vary, but you need to make sure that they are well defined and align with your customers' requirements.
Use social media engagement, and feedbacks and reviews to understand your customers better. More importantly, analyze your understanding of your customers by asking these questions:
Who is my typical customer?
What do they want to buy from me?
Why do they buy?
When do they buy?
Where does my customer spend most of their online time?
Which factors drive the customer's buying decision?
3. Define your content roadmap and calendar
Build dynamic IT marketing strategies
Set landmarks and milestones
Creating a strategic plan to achieve these milestones
4. Execute your content marketing strategy
Once you're sure that your marketing plans align with your marketing goals and campaigns, you're all set to execute them.
Create a clear action plan and the timeline for executing the strategy
Set up metrics to analyze ROI
Write ads copy and content, and simply place your ads.
Ad messages must be clear and on-brand
5. Analyse and improve
It's highly essential that you analyze your results before and after the marketing campaign. If a channel isn't delivering satisfactory results, then shift to another one with better ROI. Once you check your results, make some tweaks and enhance your IT marketing plan according to the insights.
Summary
It marketing has become indispensable in an era where competition is shooting up day by day in the IT market. Here's a quick recap of what will help you stand out:
Content is king- don't underestimate the importance of content marketing
From creating a great website to using influencers for brand awareness, you need to cover all the basic components
Distribute your marketing spend wisely across different channels
Use the above guide to implement your marketing strategies effectively
I along with my team help small and large IT companies with all kinds of Digital Marketing Services. 
Contact us today!
Fancy a visit to my boutique handicrafts store for some exciting deals?
Also Read:
Mir is a British-educated Digital Marketing Expert with 10+ years of experience in the B2B, D2C, and eCommerce Industries. Having worked with 50+ startups and SMEs, he has a clear understanding of what it takes to establish growth on online platforms.
He is also the Founder of Kashmirica, a social impact brand that aims to take exclusives from Kashmir to the Global consumer. An enthusiastic cultural entrepreneur, Mir is driven by a passion to bring about a social impact.
An avid reader, he loves writing about marketing, and entrepreneurship.