The real estate industry is a keystone in our society. People are interested in buying and selling property, and they need some skilled professionals to help them carry out the transactions. 
The traditional real estate method on websites has been changed since the last decade. But despite the advancement of technology, the importance of a middleman (an agent) cannot be replaced.
You might wonder why this is? Although real estate has great importance in our society, people still find it complicated. Buying and selling property is an exhaustive process as it involves laws, paperwork, etc. 
Click to Reach out to a Top Digital Marketing Consultant in Canada
Hence I have compiled this blog with two objectives: to make the real estate process easier to understand for consumers and to help real estate agents to offer marketing growth in their businesses. So keep scrolling if you're interested in real estate marketing.
WHAT IS REAL ESTATE?
The buildings and properties on a particular piece of land including the air and underground rights are called real estate. The term "real estate" actually means physical property.
The Four Types of Real Estate
Real estate, being a physical commodity, includes four kinds of properties: residential, commercial, industrial, and land.
1. Residential
The residential category includes newly constructed houses available for resale. It is any kind of property that is used for residential purposes. These are also known as single-family homes. This category includes duplexes, vacation homes, condos, and townhouses.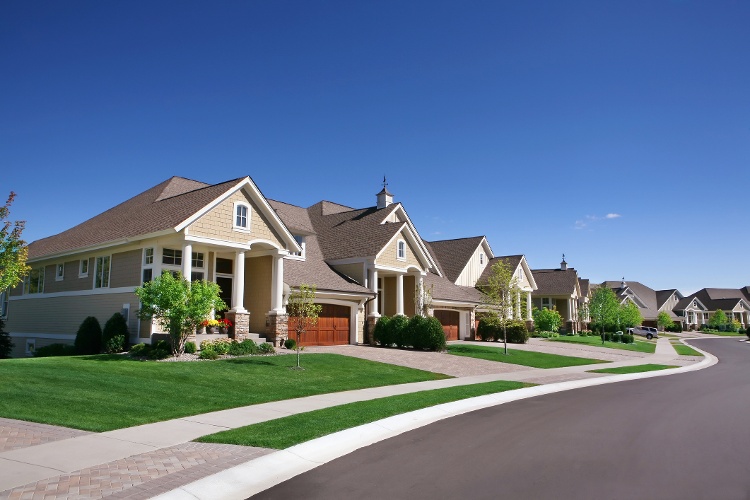 2. Commercial
The commercial category includes properties that are used for business or official purposes. It includes shipping malls, complexes, hospitals, educational institutions, hotels, and offices.
Apartments are also considered commercial because they produce rental income for their owners (eg: hostels).
3. Industrial
The buildings and warehouses used for researching, manufacturing, production, and storage come under the industrial category.
4. Land
Land involves farms and ranches as well as those pieces of land upon which buildings are being constructed or are meant to be constructed in the future.
It's important to know about the different categories of real estate as buying and selling rates of properties vary from category to category. Other processes involved in real estates such as zoning, appraisal, and construction are handled independently as well.
As these categories are distinct in working and rates, they act as an area of expertise and real estate agents are typically experts in one of them. Let's know more about real estate agencies further.
How many People are Involved in the Real Estate Industry? 
The real estate industry is complex and transactions can involve a number of people. If you've ever made a real estate transaction in the past, then you must've worked with a bunch of specialists.
WHAT ARE THE DIFFERENT TYPES OF REAL ESTATE AGENTS?
We've broken down the kind of agents that are involved in a real estate sales or purchases of the residential category.
1. The Real Estate Agent 
The real estate agent is responsible for searching the appropriate potential properties, negotiating prices, and listing properties. He acts as a connector for buyers or sellers with the industry in general. Usually, one agent specializes in either buying or selling, as both are distinct in working, but some agents specialize in both.
2. The Seller's Listing Agent 
As understood by the position, the seller's agent deals with the selling part of the process. Like dealing in selling houses or office buildings. They're also called "listing agents" because they sign the property and brokerage under their names so that it is accessible to the consumers.
The listing agents are responsible for:
Marketing and listing of the property
Solving the queries of potential buyers
Determining the selling price of the property
Guiding in negotiating of the sale price
Managing open houses and showing potential buyers around the property
Managing the sale and closing the deal
Listing agents generally make 3% of gross sale product, in residential sales paid by the seller who also pays to the buyer's agent. Eg: listing contracts are written for Z% with Z% to be paid to the cooperating agent.
3. The Buyer's Agent 
The buyer's agent deals with the second part of the process: with the potential buyers. These agents are responsible for finding the potential property according to the interest of the buyers, showing them the property, negotiating the prices, and assisting during closing the deal.
Buyer's agents are not generally paid by the buyer clients but if they successfully carry out the transaction, they are paid around 3% of the gross sale price.
4. Real Estate License 
In order for a person to coordinate real estate transactions in the lease, buying, or selling, they must have a real estate license issued by the state of the concerned property. Each state has different requirements to be fulfilled, like testing prerequisites, licensing fees, and a number of hours of education.
THE BROKER
The real estate broker is considered above the buyer's / seller's agent. The brokers are free to form their own real estate brokerages, and hire agents. They are better educated and licensed than the agents, although rules vary from state to state.
THE MORTGAGE LENDER
When you need money to find your mortgage loan, the mortgage lender is the institution that lends you money. Before bidding on a potential property, in the real estate business, it is always advised to first get pre-approved for a loan. Real estate buyers are likely to work with mortgage lenders before looking for property.
THE APPRAISER
The appraiser determines the value of the property and is not associated with either of the buying or selling parties. Generally, the appraiser is chosen by the mortgage lender so as to get a fair price for a building or home. In order for the mortgage lender to grant a loan, the price of the property must appraise for the agreed-upon contracted sales price.
The appraiser does the on-site job of conducting a room-by-room walk, reviewing the property inside and out, and reports to the lender.
THE INSPECTOR
While the appraisers are hired by the lender to determine the fair price of the property, the inspector does the job of inspecting the property for any damages, safety, and possible defects. This is an exhaustive process, they have to review hundreds of items when inspecting a building.
THE CLOSING ATTORNEY
The transactional or closing real estate attorney is an attorney who specializes in real estate law. They are referred to as "closing" attorneys as clients approach them at the closing of their real estate transactions.
The transaction involves many legal documents and it is the responsibility of the legal attorney to explain the documents to the clients.
Each of the above-mentioned people is an integral part of any real estate transaction. Let's look at the entire process, step-by-step
THE REAL ESTATE PROCESS
The process might fluctuate a little depending on the type of property and people involved in it. But mostly the basic steps of the transaction remain the same.
For the sake of better understanding, let's continue the example of residential real estate to outline the process of the transaction. Industrial and commercial real estate transactions also follow a similar process, but residential is the most relatable for consumers.
Below, I'll cover the perspectives of both the buyer and the seller.
1. Hire an Agent
The first thing a person does after deciding to sell their property is to hire a listing agent (unless they decide to sell it as a For Sale by Owner).
As a general pattern, clients have found their listing agents by recommendations or a local advertisement in flyers or newspapers. But as of recent, people find their agents through social media, online advertisements, or through sites like Zillow or Trulia.
Listing agents usually give a listing presentation or pitch which highlights their work- how they'd price and market your property, their commission structure, and other competitive advantages. This process helps the client to choose the right agent.
When a person decides to buy a home, she/she chooses to do one of the two things: secure a buyer's agent to help them discover and buy property, or start looking for a property on their own and hire an agent when they've finalized the property.
There's no right or wrong way when it comes to hiring a buyer's agent. There is, although, an added benefit when you hire one- they help you discover properties you couldn't have found yourself. It's better to interview and finalize an agent before the whole process rather than letting the listing agent see both sides.
2. List/View the Property 
Listing your property for sale would be the next step so that potential buyers can view the property. Below are the steps for listing and viewing a property:
Set the price.
Use the Internet Data Exchange
Market your home
Set the price of your property. Your real estate agent will help you to finalize this according to the location, condition, amenities, competitive properties, and upgrades of your property. To understand the pricing of your home, the agent will compile a comparative market analysis (CMA).
Feed your home into the Internet Data Exchange (IDX). It is a platform that has a compilation of the listings of properties from all over the country. It also permits the members of multiple listing services (MLS) to market their properties to other agents and potential buyers.
These marketing tactics will expose your home to other buyers and agents. List your home on other real estate websites so that more people can see it.
Open houses and showings give your potential buyers a first-hand experience. This allows buyers to ask their queries and express concerns saving time and energy. Some agents may also shoot real estate videos and create virtual staging opportunities for your home.
When sellers opt to sell their property by themselves, it's called For Sale by Owner (FSBO). FSBOs theoretically save money since they don't have to pay buyer's and listing agents. But they don't get the benefits of CMAs, IDXs, or any marketing or agent knowledge. In certain cases, the FSBOs might pay a cooperating commission to the buyer's agent who is working with the client who buys the property.
For the buyer, this step will so include researching and viewing properties. While some people rely on their agents to discover the property, others might use websites like Trulia and Zillow to find homes within their range and according to their taste.
Buyers will visit open houses to examine and experience the property, its conditions, and its amenities. Then they'll schedule showings with their agent, asking more questions about the property as they explore it.
Remember how I mentioned earlier that buyers will need a pre-approval for a loan before they buy the property. Why is that necessary? It's because if a buyer likes a property that they want to buy, they should be prepared to give an offer on the spot.
If a person wants to place an offer without a pre-approval of the loan, the process could take weeks. During that period of time, if the seller gets another offer, he'll proceed with that.
3. Close on the Property 
Let's assume you want to sell your home and someone wants to buy it. What is the next step?
Firstly, the potential buyer would place an offer for your property which could be at the exact asking price, below or above it, depending on the competition in the market and how quickly the seller would like to close the deal. The next step would be that you'll discuss the offer with your agent, and accept or deny it. There could be a little exchange between both the parties or the buyer might immediately sign the contract if the offer is accepted by the seller.
Right-of-first-refusal clauses are written contracts involving family, friends, tenants, landlords, etc. So if you, the seller, enter into this agreement, you'll have to let the first potential buying party view and make an offer on your property before anyone else.
The next steps don't involve you directly. The buyer's role begins here.. He or she will submit his or her earnest money, order an inspection of the property, finalize things with the mortgage lender and secure an appraisal. There's not much you are required to do at this point. You just have to wait for the process to be completed.
You'll be seeing your buyers next at the time of closing. House closing is a fancy way of declaring the property title as transferred, a down payment is made, and both you and the buyer are required to sign a few documents. And voila! You hand over the keys to the new owners and be in your way having successfully made a great deal.
Okay, now let's come to the other side of the story and switch roles.
You're a person looking for a house. What's next?
So you've already made an offer that was accepted, and signed the contract. Now the rest of the process requires you to thoroughly analyze if this is the kind of property you are looking for. You need to be sure that what you're buying suits your expectations and requirements and all this needs to be done within the timeline mentioned in the contract.
To let the seller know you're actually serious about buying this property, you'll need to submit your earnest money. Earnest money is not your down payment (that's to be paid to your mortgage lender.) It's credited to the seller and held until the house closing.
After that, you'll need to conduct a thorough examination of the property to see if any repairs are to be made. (The costs of repairing are to be negotiated between the buyer and the seller.) Around the same time, you'll begin the paperwork with the lender to secure your loan.
Once the house inspection is complete, your lender and you will order an appraisal to ensure that the value of the house matches your offer and mortgage value. You'll need to research about and secure home insurance (often required by the lenders), schedule closing, and utilities.
Finally, at the closing, you'll need to sign all the necessary documents, being proof of your mortgage and home insurance, to assume the title and transfer the ownership.
That's it! The home is yours!
REAL ESTATE MARKETING STRATEGIES
Now since I've covered the entire process of residential real estate transactions from both the perspectives of the buyer and seller, you might be wondering, what about the real estate agents? Don't worry, I've got you covered. This section is dedicated to marketing property as well as yourself which is the most important part of your job.
Wait. What do I mean by "yourself"?
Quite literally speaking, as a real estate agent you are an entity on your own. As much as you need to market the property, you need to market yourself as well. You might be working under a brokerage firm, but that's not enough. You need to establish yourself as a know-it-all, a real estate guru, a marketer, and a negotiator. Your clients will be looking for someone whom they can trust with the most emotional and expensive transaction they'll make in their lifetime. 
Even better, the more you market yourself, the more you'll be marketing the homes and properties that come under your arena. It's a wholesome and profitable choice to make.
Marketing strategies differ for the real estate industry because of its uniqueness. Some businesses are only concerned about digital marketing, while some are concerned only with traditional methods like billboards and newspaper ads. 
In real estate, you'll be required to do both. In real estate transactions, the agents are not looking for a particular kind of targeted audience. They just need clients or buyers. The wider the network of the agents, the more people they'll attract, hence the more houses they'll sell and the money they'll make.
Let's look at the different ways you can market as a real estate agent and we'll also discuss both inbound and outbound methods.
1. Digital Marketing
While looking at the endless world of digital marketing these days, the whole concept can sound a bit overwhelming. Out of all the options, which option to choose is a big question. You just need to start somewhere. So begin with any of the strategies mentioned below and with time you can consider others as your commission allows.
Website 
Having a website is essential for your personal branding as an agent and marketing the homes you have for sale. Buyers and sellers are online now more than ever, so if you don't have a website already, you might be missing out on plenty of clients and revenue you didn't know existed.
Having an online website that includes all about your previous projects and current ones shows a promising character and professionalism. You must include, at least, your basic information, your contacts, and current projects on sale.
Blog
Another way to attract genuine clients and visitors is to maintain a blog. It helps to prove your legitimacy and expertise as a real estate agent. You can take the advantage of the complexity of the real estate agency by answering the most FAQs about it.
Consider merging your blog and website, so that when you have a visitor on your website, he can be effortlessly transferred to explore your blog as well. Creating a blog page will require you to regularly post on it so that you continue to attract new audiences and maintain the older ones.
Try and maintain a rhythmic pattern in the blog posting. If you're running out of ideas, consider the questions of your clients or write one blog on your current houses for sale.
Social Media
Social media is inviolable in the growing real estate industry. Over 74% of agents use Facebook and LinkedIn for the purpose of marketing their businesses. There are plenty of ways to use social media to help your growth. For example, just as a blog, having a dedicated Facebook page will help to attract new clients, you can post about the available houses, and share your blog content and links. Instagram is the best medium to share high-quality photos and videos of houses. 
Social media is also an efficient way to connect with your clients without the hassle of searching for a contact number or email address. They can simply DM you for a property they are interested in or shoot you a question. For the sake of your branding as an agent, it's important that you create personal connections with your clients.
As I mentioned earlier, while making such a crucial decision of buying a decision, they'll want to have a trustworthy guide. Make sure that you try your best to be one.
Email
Email is also a great option to consider. It doesn't matter whether the person is currently looking for a house to buy or not, email can help you to stay connected with this person who might share your services with his acquaintances.
Real estate newsletters are the perfect way to go for this. Newsletters are easy to manage, templatized, and also allow you to be more creative. In your newsletter, you can include local events, fun facts, new homes for sale, etc.
Paid Ads
Paying for ads comes with pros and cons whether it's about your real estate business or current houses for sale. While paying for ads, whether social media, banners, or native ads, make sure they're well targeted geographically. To make sure that your ads are being seen by valuable audiences, consider paying for ads on your blog, or family-oriented blogs, or local interior design websites. 
2. Traditional Marketing 
In a complex industry such as real estate, traditional ways never go out of style (and profit.) There are a few reasons why.
Firstly, real estate is a geographically-based industry. Local magazines or flyers might not be as beneficial for e-commerce businesses that provide all the services online, but they would be for those (like real estate agents) who are concerned with working locally. Secondly, traditional ways are cost-effective and generate a greater ROI, especially when marketing locally.
To find what works the best for you, test out a few of these strategies.
Business Cards and Postcards
When you're showing houses, talking to potential clients, meeting new people in local events, it's necessary that you at least carry business cards handy and share them with people. Business cards are a non-negotiable for a real estate agent. Real estate business cards with your contact details help you to stay top-of-mind with potential clients.
Postcards are also very effective when it comes to marketing houses for sale. There's plenty of space to include pictures and secondary details. They're also a cheap option and quick to read.
Direct Mail
This might sound like an old-fashioned option but when it comes to real estate, it's really promising. Did you know, direct mail open rates reached 90% in 2021?
To target a specific locality or neighborhood in your city, direct mailers are a great way whether you want to flyers, postcards, or other content. It's a tried-and-tested method that can work independently as well as with other strategies.
Local Advertising
There are a few ways in which you can advertise locally. The first one is, you can pay for advertising on billboards, bus benches, magazines, and newsletters. Second, you can partner with other businesses who'll advertise for you for free or you can leave flyers and business cards in and around targeted areas.
You can also consider writing in a local newspaper column to target local audiences and clients. Just as with blogs, this strategy will help you to attract potential clients, this time they'd be local and approachable. It'll also help you build trust and show promise as more people read your columns regularly.
Finally, door-knocking is a tried-and-tested method you can use which is sure to bring you new leads or spread the word around about your services or agency. It will keep you top-of-mind with the local people.
3. Word of Mouth Marketing
Compiling testimonials of previous clients will help you a lot. Word-of-Mouth or WOM marketing is the most effective strategy, especially in an industry like real estate which involves huge money and reliable people.
Reviews and Recommendations
The real estate industry is an example of how your previous clients are your best marketers. You can leave a lasting impact on your clients so that they may remember you in the future. Give them your best experience and services and they'll keep you in mind.
Asking for referrals and recommendations should be your priority whether you've served one client or a hundred clients. As you close with each client, ask how they'd describe their experience working with you in a few sentences and request them to upload their testimonials on websites like Yelp, Zillow, and Realtor.com. Besides this, you can also publish these on your blog or website.
How can you receive great testimonials? By providing exceptional services. Be a great real estate agent, who not only works for the best of his clients but is also a trustworthy person. Leave a lasting impression on your clients by gifting them with something at the end of the closing, congratulating them on their new house.
These are just a few tips and tricks you can use.
If you are looking for a Digital Marketing Expert or a Web Development Consultant, you can contact me for all your Digital Marketing needs such as Search Engine Optimization, Copywriting, Email Marketing, Marketing Automation, Social Media Marketing and Paid Advertising. I am also a specialist in Content Marketing and Inbound Marketing.
Also Read:
Check what is in store for you on our shopping page.
Mir is a British-educated Digital Marketing Expert with 10+ years of experience in the B2B, D2C, and eCommerce Industries. Having worked with 50+ startups and SMEs, he has a clear understanding of what it takes to establish growth on online platforms.
He is also the Founder of Kashmirica, a social impact brand that aims to take exclusives from Kashmir to the Global consumer. An enthusiastic cultural entrepreneur, Mir is driven by a passion to bring about a social impact.
An avid reader, he loves writing about marketing, and entrepreneurship.